Intact CFO's take on the looming recession, and how insurers plan for it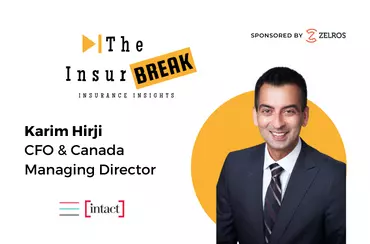 Listen to the Insurbreak podcast on:
Join Karim Hirji, CFO and Canada Managing Director at Intact Venture in the InsurBreak Podcast.
Intact is a 20bn global p&c insurer with 70% of revenues and 20% market share in Canada. Intact Insurance is Canada's largest home, auto, and business insurance company, the choice of more than four million consumers. Its coast-to-coast presence and its strong relationship with insurance brokers mean the company can provide the outstanding service, comfort, and continuity customers deserve.
In this podcast learn about:
His career from Canada to Hong Kong, from an underwriting position to his current role as CFO, his responsibilities, and goals.
How AI brings value to Intact, their incorporation of machine learning to personalize pricing on an individual basis, as well as modernizing their pricing systems, and gain an edge in terms of segmentation.
How good analytical insights and AI are able to make loss predictions to reduce cycle time, improve the customer experience, and save on costs in that process.
How AI improves agent/customer interaction using intelligence to predict the best agent to handle interactions based on agent profiles and customers' needs.
The impact from a cost of goods perspective on insurers and how the conflict in Russia and Ukraine will affect the supply chain disruption over time.