The Future of Insurance is at InsureTech Connect; Insurance Leaders Zelros, Quility & Insurance Supermarket Inc. are Enriching the Lives of Policyholders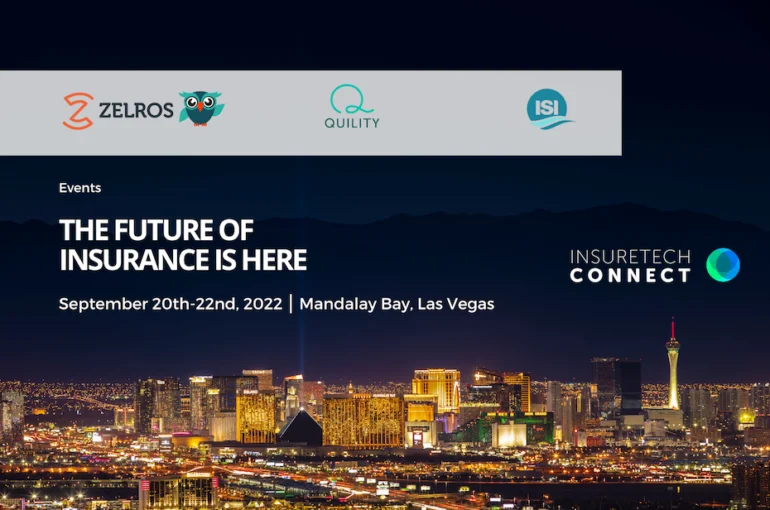 InsurTech leader Zelros is pioneering personalized recommendations for insurers.
LAS VEGAS (PRWEB) SEPTEMBER 22, 2022
Zelros, an InsurTech pioneer providing insurers personalized recommendations across channels, is accelerating decision-making for executives and marketers with intelligent customer engagement and insights, while enabling agent effectiveness, improved cross-sell and client acquisition.
Quility, an award-winning insurance company, is on a mission to make life insurance accessible, affordable and customized for everyone. Quility's digital platform offers customers the option to apply for life insurance online through a 10-minute application or with the support of a licensed insurance agent. Quility empowers its network of thousands of agents with best-in-class technology to extend the lifetime value of clients through automation, engagement and a robust suite of digital proprietary products.
Mark Palmer, Chief Strategy Officer at Quility, states: "Customer expectations are constantly changing in the insurance industry. The industry is moving forward, and the status quo is being challenged. We want to set the example to better serve our customers with offerings that meet them where they are, such as providing personalized recommendations for insurance and financial solutions. We are committed to innovation, and we are growing our partner ecosystem with vendors like Zelros to accelerate our value to market while increasing engagement and productivity."
Another innovative insurance provider is Insurance Supermarket International, their goal is to make life insurance easy, fast and affordable to Americans from all walks of life.
Yashar Khoshand, Sr. VP Operations, Products and Analytics at Insurance Supermarket International says "At Insurance Supermarket International, we understand that financial security is essential for those seeking life insurance. And, that it needs to fit in our busy life schedules, not the other way around. We are constantly looking for better ways to leverage data insights to change the game in better protecting consumers. We chose to partner with InsurTech provider Zelros' to help us with deeper analysis on our customer data to inform our sales and marketing strategies."
Zelros is helping insurance players by offering a responsible recommendation engine that enriches customer data, offers personalized recommendations and messaging to guide consumers and agents so they have the insights at their fingertips to make sound decisions.
Zelros Co-Founder and COO, Damien Philippon says "The insurance industry is ripe for driving personalization right into the center of any customer engagement and agent experience with a recommendation engine. The industry saw a 230% YoY growth in this product category according to industry research. We are thrilled to partner with innovative insurance providers such as Quility and Insurance Supermarket International, and help set the example for the industry."
Zelros' key recent highlights:
Milky Way and Sunflower product releases added the following features:
○ Accelerate sales opportunities with added intelligence on customer insights
○ Faster executive decision-making using a new generation of analytics reporting, complementing visualization and reporting tools such as Tableau, MS PowerBI
○ Easy access to Zelros low-code platform gives 20x faster data science innovations
○ Real-time risk assessment to accelerate and bridge distribution with underwriting
○ USA Today
○ CBS3 News
○ NBC29 News
○ WFTS-TV: Action News
○ ABC31 KLAX TV
Zelros, Quility and Insurance Supermarket International are excited to be attending ITC Las Vegas September 20th-22nd to share their thoughts on the insurance industry innovations, trends and what the future holds in customer experience.
For more information, you can find Zelros at Booth 3253.
About Zelros:
Zelros is a pioneer and award-winning InsurTech providing a recommendation engine solution that is transforming the customer experience with personalized offerings across channels based on enriched customer data insights. Zelros has driven higher cross-sell, increased client acquisition and retention and is trusted by some of the world's largest insurance companies. Sample customers include BPCE Group, Crédit Agricole, Groupama, MAIF, Matmut, Baloise Group, AssurOne, Quility, Insurance Supermarket International and Simpego. Zelros applies its recommendation engine by also adhering to Responsible AI governance. Zelros is headquartered in Paris, France with offices in Canada and in the United States.
About Quility:
Quility, recognized as the 2022 Insurance Company of the Year in the American Business Awards, is transforming how life insurance is bought and sold. Backed by the industry's top carriers, Quility delivers digital insurance solutions that reduce friction points in the application and underwriting processes to meet the needs of today's clients and agents. To learn more, visit quility.com.
About Insurance Supermarket International Inc.:
Insurance Supermarket International Inc. is a leading North American digital life insurance distribution platform that uses proprietary technology to provide a full spectrum of personal protection and investment products to customers in the U.S. and Canada. Through its machine learning platform, ISI can bind policies in real-time, for same-day-issue, settlement, and commission. ISI's mission is to use its innovative technology platform to democratize individual life insurance and make process simple and affordable for everyone. To learn more about ISI visit http://www.isi.ca.