4 Scary Customer Experience Realities in Insurance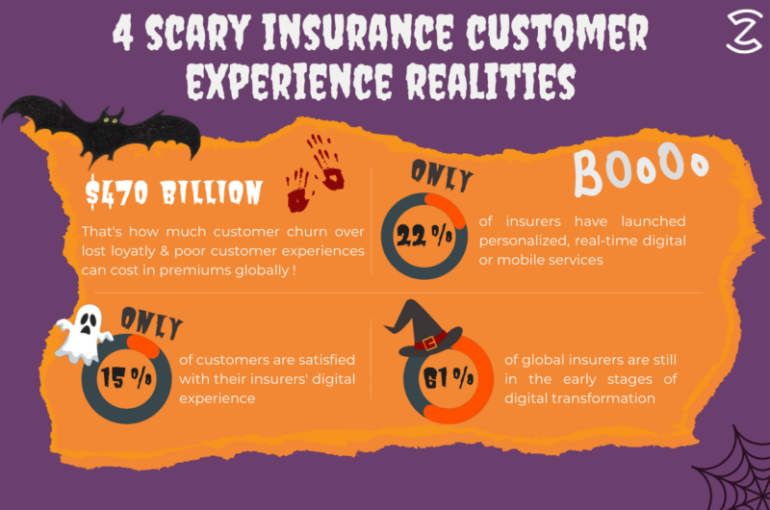 Have you seen the bleak customer experience (CX) metrics impacting the insurance industry? They are a frightening wake-up call for every insurance company leader. They are also driving action, inspiring forward-thinking companies to move faster with the adoption of digital transformation solutions that help them stay relevant and meet their customers where they are.
Scary metrics we shouldn't look away from:
Customer churn over lost loyalty and poor customer experiences costs our industry $470 billion in premium costs globally.
61% of global insurers are still in the early stages of digital transformation.
Only 15% of customers are satisfied with their insurers' digital experience.
Only 22% of insurers have launched personalized, real-time digital services.
The disruption of the COVID pandemic only exacerbated a core CX issue: insurance customers are increasingly questioning the value of insurance products and services. They are also facing new risks to their livelihood, health, and wellbeing — making a digital transformation of the insurance industry more relevant than ever. Ultimately, insurance customers want a highly responsive digital experience from start to finish — a lot like what they can get on most every other digital platform today.
That means the insurance leaders who fully embrace digital transformation can achieve significant competitive advantage. To succeed, insurers must understand what's possible and take decisive action to deliver value now and ignite long-term growth — especially relevant as leaders are deep in planning for a stronger, smarter, and more nimble 2022.
Gartner identified these top three opportunities for insurance leaders in 2022:
Insurers can respond to majority consumer demand for seamless multichannel experiences that can only be delivered via an omnichannel platform.
Insurers can remove bottlenecks and common issues that plague insurance transactions, driving customer interactions that build loyalty and brand empowerment.
Insurers can improve customer engagement speed and quality if they are willing to tackle technology challenges such as lack of integration and legacy systems.
Reaching your customers in new ways requires future-ready technology and operations. It also requires a shift away from reactionary, long-range digital solutions to a more proactive adoption of critical customer-centric tech solutions. Insurers today have all the intelligent tools and ecosystem partners at their disposal to help them acquire and keep customers.
At the center of everything — data
"80% of insurance executives say that their organization's business and technology strategies are becoming inseparable — even indistinguishable." Accenture Survey Report 2021
When you invest in data, AI, and digital technologies, you are opening the door to a new generation of business intelligence that can tap into natural language processing, low-code platforms, and robotic process automation — all of which are able to put powerful capabilities into the hands of people across your business. Data can and should be your new best friend. But it has to be parsed the way you need it. To amp your ability to compete in a highly competitive industry, you want your data to do three things really well:
Improve customer personalization
Accelerate your digital transformation initiatives
Get the analytical insights you need to stay on top of your customers, macro and micro economics
Improve customer personalization
"The future of insurance will be personalized and customizable, rather than one-size-fits-all." Forrester's The Future of Insurance Report 2021
To stay relevant, insurers must essentially become solutions providers offering value-added services. For example, insurance policies that mold themselves around a customer, becoming living contracts with contextual advice and add-ons to reflect customers' changing risk conditions. That said, sales and marketing teams must be able to leverage data from all channels so they can empower customers with proactive and personalized recommendations. This capability results in higher conversion rates while it minimizes churn.
Natural language understanding is fast becoming a key to better personalization because it can unlock new, relevant knowledge from every live customer conversation. Natural language processing can capture critical information from voice conversations between policyholders and insurance advisors or contact center representatives. The output then becomes contextualized recommendations that get surfaced in real-time, at the end of each call, and the newly detected information is automatically stored within the CRM for future personalization.
Accelerate your digital transformation initiatives
Much of the work involved in digital insurance is about embedding capabilities that will position you well for the future. Rather than a one-off implementation of an agent portal or digital claims filing, for example, you can adopt an insurance-specialized AI business platform that helps you across these core business needs:
Compliance & Security. Run your business on a secure cloud and on-premise, with enterprise-level data anonymization, traceability, and regulation compliance (IDD, GDPR).
IT System Integration. Seamlessly connect to your existing ecosystem through fast integrations with CRM tools and insurance systems including Salesforce, Microsoft 365, Guidewire, underwriting, and claims.
Data Connectivity. Ingest nearly any kind of data (claims, quotes, voice calls, underwriting documents, using link connectors and insurance-specific data schemas) as well as 3rd party data such as weather and crime reports to gain a holistic view.
Automation. From cover subscription to claim handling, deploy and monitor critical AI-driven processes in production, without compromising on fraud detection.
Get the analytical insights you need — for everything
Insurers can now make relevant business decisions with next-generation AI. Today it's possible to leverage ready-to-use, specialized data schemas (1st party and 3rd party data) and advanced Automated Machine Learning to deploy new-generation AI in production and at scale. Insurance data science teams can be relieved from the heavy investments and human-intensive labor needed to build a solution versus acquiring the right fit technology to accelerate transformation with already available technology at a fraction of the cost.
The velocity of change in insurance is only going to increase. Stay immune to any future scary metrics by taking actionable steps now that will help you protect, grow, and sustain your industry leadership position.
To get a demo on how Zelros can help you, contact us or meet us at ITC Las Vegas at booth 3253