How to improve customer acquisition and retention through explainable propensity scores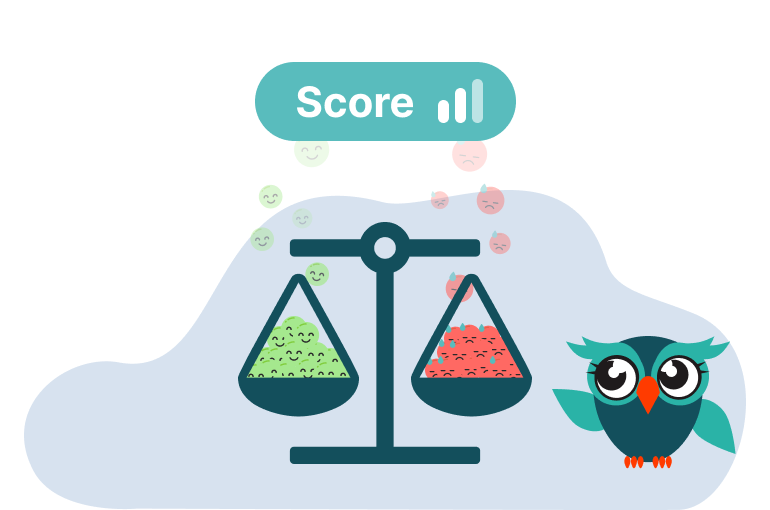 Consumers today are fickle. And a bit spoiled if we're honest. And that's actually a good thing especially if you have the tools to spoil them even more. Yes, consumers want personalization and customization more than anything so they can trust you and keep giving you their business. We've trained them well starting with industries like retail and streaming services.
And if we look at the world of insurance, this customization is even more important. Insurance purchasers want their life situation to be quickly understood, accepted, and the solutions you offer to be tailored just for them.
Insurance advisors have lots of levers to personalize the customer experience (spoil them more), such as using AI to help identify offers and selling points that match a consumer's situation. This level of assistance and support is possible using AI explainable propensity scores.
What is AI explainable propensity scores? In a nutshell, it is the leveraging of what we call responsible AI to explain insurance product scores based on a set of algorithms—algorithms that can "know" and "predict" the current and future needs of a consumer. It's a level of data innovation and insight that more and more insurers are using because it makes their advisors more successful and their consumers more likely to be loyal.
How do these explainable propensity scores work?
Using the Zelros solution as the industry standard example, insurance advisors would use associated propensity scores to meet a consumer's specific needs, and these scores show up in the form of bars so that advisors can see—at a glance—the most suitable product for a consumer. These scores are easy for the advisors to understand and apply.
But how are these algorithm models used to get the scores they do and is the consumer preference trustable? When several products can meet the consumer's needs, how can the advisor be certain the final proposed product is the right one? For advisors, being able to access a valid explanation for any AI model (result) will not only increase their confidence, it also brings a high degree of transparency and reliability to the suggestions provided.
Using the Zelros solution for more precise and tailored data allows advisors to:
Enrich the relevancy of their customer conversations by using far more specific, tangible data
More proactively anticipate potential customer objections
Outsell the competition because they are combining their expertise WITH smarter customer data
More confidently highlight competitive advantages
Be more empathetic in any given situation
When used in the right context, at the right time, and by meeting consumers' expectations in the process, this data presentation is a game changer for insurers.
"This can help reassure the customer, they can see with just one click that we know them, it creates a climate of trust."
– insurance advisor feedback
Human-friendly, transparent explanations use human-centered design
The information provided to advisors must be adapted to the situation they encounter since over-information can lead to time delays in processing the information and a potential loss of business. This requires the right balance between the relevant consumer data and the expertise-level of the advisor. See the data presentation and advisory examples below.
Skope-Rules: an interpretable rule-based classifier highlighting customer specificity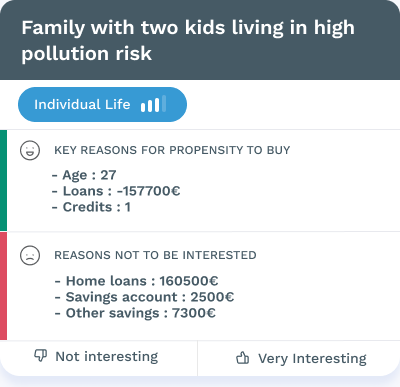 Local Explainability: shows what info from customer profile affect the AI decision

The Zelros solution helps advisors "advise" using AI-enabled and real consumer stories. It's not helpful if agents can only reference technical, raw data points. Narratives and visuals are needed to bring those data points to life for the consumer.
"Having actionable content instead of raw data allows us to better target our proposals and improve customer knowledge."
– insurance advisor feedback
In the insurance field, human contact is important, and empathy and dialogue are key elements in convincing, reassuring, and eventually converting a prospect into a customer. Each call has many twists and turns whether that's a customer who is a hurry, hesitant, upset, or just seeking information. These are all very different situations that require reactivity and proactivity. The ability to customize messages and content both quickly and thoroughly then—becomes essential. It is the art and science of combining raw data with contextualized, transparent advisor scripting that is the new power play.
The future of insurance
Explainable AI algorithm capabilities are catching on. In using this advantage, insurers are seeing more customer acquisition and loyalty—a direct dotted line to business growth. When you increase an advisor's confidence in what they are recommending, supplying them with what they need to give critical context to the consumer when needed, you are seeing the future of insurance.