Zelros Announces Integration with Guidewire HazardHub Data into its Insurance Recommendation Engine to Bring Better Risk Assessment at the Point of Sale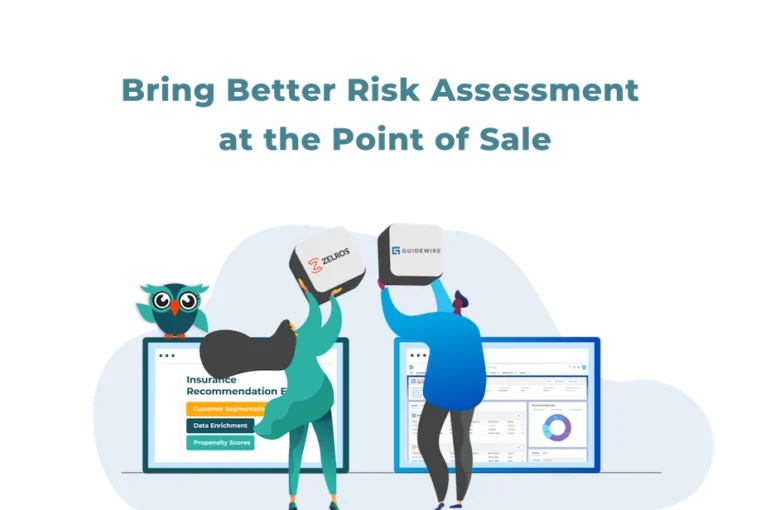 This new partnership with Guidewire provides insurance innovators a high-quality distribution that is now possible for P&C insurers, by driving premium growth while ensuring profitability.
MONTRÉAL AND LAS VEGAS (PRWEB) OCTOBER 25, 2022
Zelros, a pioneer in InsurTech providing insurers personalized product recommendations across channels, announces today the integration of Guidewire HazardHub data, the leading property-level hazard risk database, for comprehensive, national coverage for risks that destroy and damage property. Zelros also announced it has become an official reseller of Guidewire HazardHub in the U.S.
Today's insurers are looking for growth opportunities by providing more personalized advice to policyholders, but also by proposing coverage that better matches their risk profile, and does not impact profitability. Zelros enriches its Insurance Data Catalog with Guidewire Hazardhub data to bring better risk assessment and pricing optimization at the point of sale. The Zelros API can be consumed to display a warning in the agent sales management system, such as Salesforce (end-to-end integration), Microsoft Dynamics, or any other CRM (Customer Relationship Management) / AMS (Agency Management System).
Christophe Bourguignat, CEO and Co-Founder of Zelros stated, "The insurance industry is experiencing a customer experience transformation, and we are leading the way among other insurtechs in this movement. As part of the Guidewire PartnerConnect program, with a solution in the Guidewire Marketplace, we are thrilled to introduce our new integration with Guidewire Hazardhub."
Bourguignat continues, "This partnership offers a faster and easier way to transform an abundance of customer data into digestible recommendations which allows our partners to go from a reactive provider to becoming a proactive life partner advisor. With the Guidewire HazardHub end-to-end integration with the Zelros Recommendation Engine platform, the property risk data helps agents assess risk and suggest prevention actions to improve distribution quality at scale, and increase loyalty."
"For too long, getting data on a U.S. property has been inefficient and ineffective, requiring insurers to piece together information from at least nine different sources," said Bob Frady, Vice President, HazardHub, Guidewire. "Insurers can now utilize the Zelros Recommendation Engine augmented with Guidewire HazardHub to receive high-resolution property intelligence and recommendations for the most suitable coverage based on each personal risk profile."
Benefits of this integration for the insurer include:
Improving loss ratios with risk assessment at the point of sale
Ease of finding the most suitable coverage based on each personal risk profile
Upskilling sales agents
Increased acquisition of profitable customers
Improved cross and upselling rates
Increased loyalty
Customer Analytics and Risk Analytics transformed into actionable insurance recommendations
Time to market 10X faster with Zelros low code platform and ready to use Apps & APIs across channels
Responsible AI capabilities validated by financial regulators
Learn more about Zelros and their insurance-targeted solutions at http://www.zelros.com.
About Zelros
Zelros is a pioneer and award-winning InsurTech. Its recommendation engine solution is transforming insurance distribution and marketing by enabling a unique customer and agent experience through hyper-personalized insurance recommendations across channels. Zelros is trusted by some of the world's largest insurance companies, including BPCE Group, Crédit Agricole, Groupama, MAIF, Matmut, Baloise Group, AssurOne, Quility, Insurance Supermarket International (ISI) and Simpego to help them stay competitive, boost client acquisition and cross-sell revenue, and adhere to Responsible AI governance. Zelros is headquartered in Paris, France with offices in Canada and the US.
Contact Zelros for a demo today!