Are new customer expectations driving insurance transformations?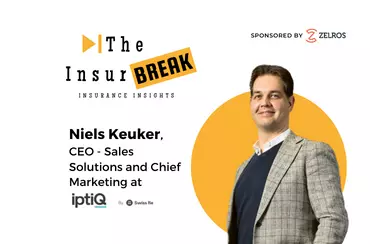 Listen to the Insurbreak podcast on:
Niels Keuker is the Chief Marketing and Sales Officer for iptiQ Americas and Chief Executive Office of iptiQ Sales Solutions. IptiQ is a B2B2C insurance unit within Swiss Re that is focused on developing innovative Life & Health insurance solutions for the Middle Market.
Listen in to this episode to learn about Niels' experience around the globe as prior to  moving to the US, he worked in different areas of Europe. He worked for Swiss Re/iptiQ in London as the Head of Business Development and Sales for the Europe, Middle East and Africa region.
Before joining Swiss Re, Niels worked for seven years in the insurance industry in several executive marketing and sales roles for companies like Aviva, Delta Lloyd and ABN AMRO Insurance.
Here's the topic that will be tackled in this podcast:
Niels' role and responsibilities at iptiQ as well as his previous experiences
The transformation happening in the insurance industry
Customer expectations and how the industry has changed the way to engage with them
Key factors of a successful customer journey
The drivers of change and transformation in the insurance industry
The future of the industry
Inclusion and diversity in the insurance industry