How the Capgemini-Zelros Partnership is a Win for Insurers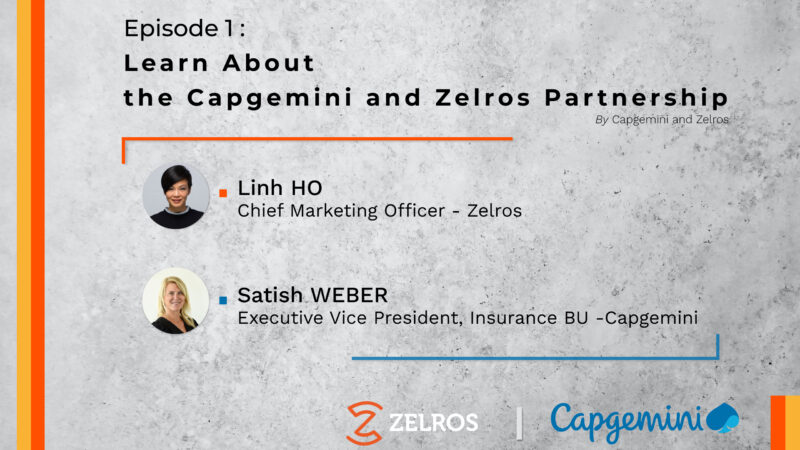 The insurtech market is poised for tech transformation, and insurance industry leaders are making strategic business decisions now that align much more closely to fast-changing customer experience needs.
At the recent Insurtech Conference in Las Vegas, Zelros' CMO Linh Ho had an opportunity to sit down with Satish Weber, Capgemini's EVP of business development and go-to-market for the insurance industry to discuss the customer partnership value they offer the insurance market.
In this blog, we share key insights from their discussion around today's dominant trends including tech adoption, AI, Responsible AI, and the deeper personalization offerings that are currently reimagining the customer buying journey.
The partnership genesis
Zelros and Capgemini partnered earlier in 2021 to bring to the insurance industry the same caliber of tech transformation and innovation other industries have already adopted to meet the needs of their partners and consumers.
It was a natural alliance: Zelros is a pioneer in AI for the insurtech market, helping insurance companies increase their sales revenue and provide needed effectiveness for the agent experience as they seek to better serve their clients. Zelros does this by offering a recommendation engine that is tailored and hyper-personalized to the customer.
And Capgemini is a leader in digital transformation, especially in the insurance and financial sectors where they are accelerating digital transformation for their customers. In partnering with Zelros, Capgemini's market penetration is accelerating far faster and more effectively across Europe and in North America, with pipeline expansions into Canada and other regions. It is a symbiotic alliance that strengthens the go-to-market adoption for both companies.
How AI is ushering in needed changes
Linh: The insurance industry is now turning to AI and machine learning, not only for automation but for augmented intelligence. It's about looking for ways to empower the humans who are behind the phones and the consumers who are at home searching for the insurance they need. More and more of the use cases we're seeing center around customer personalization and tailored advice—drawing not only from the person's history, but also aligning with demographics and third-party data for a holistic 360 view. It's a far more inclusive view that allows us to shape contextually relevant offers for a specific customer.
More than ever, consumers today expect an end-to-end digital experience that is intuitively smart about them—because that's the experience they're getting in retail or digital streaming services, for example. I believe AI is here to stay and the insurance industry is primed and ready for a digital transformation.
Satish: Exactly, and this partnership is enabling a broader spectrum of business transformation services we can now offer our clients. Examples include improved customer experience, greater efficiency and agility, product innovation, and tailoring products to customers. Innovation is at the heart of everything we do, so partnering with Zelros is exciting because the insights that sellers can draw really powers the transformations our clients need.
Where does Capgemini see the value in AI for insurtech?
Satish: I think it has value all across the insurance value chain, but just focusing on the area of distribution—which has been a focus for Capgemini in our recent World Insurance Report and our World Insurtech Report—we've homed in on the notion of the CARE equation. CARE stands for convenience, advice, and reach. What this means is the ability to deliver very convenient, agile, fluid experiences to customers; the ability to provide highly tailored advice and reach expanded across a broad number of channels. I see the moment we live in now as a big opportunity to deliver this care equation to people, particularly in light of the COVID disruption where more and more people are shopping for insurance and realizing the value of it as well as more awareness about the protection gaps that have become highlighted.
I think there are so many different options for people out in the marketplace when looking for coverage, and there's a new dynamic in terms of how you interact with your insurance company. Our research has found that you may see a consumer start the research online and then want to reach out for an agent for that more personalized experience with tailored advice. We want to help by really driving the insights required to navigate that fluid and contextual transition between channels and to enable advisors and agents to truly provide valuable and tailored advice to these consumers.
The advantages of responsible AI governance
Linh: More insurers are starting to pay attention to what responsible governance means for them from the data and regulated data side of things. They want to take it a step further and are looking at how an AI-enabled Zelros platform enables them to train algorithms to remove things like any biases and data discriminations. Another example is the focus on tracking their carbon footprint in ways that helps them maintain and sustain healthy data practices. Insurance companies have programs in place, but I think they're starting to pay attention to what that program looks like and aligning it to their unique NorthStar when it comes to accelerating their ability to be a responsible and conscientious organization.
The insurance industry today is a wide open green space for leaders looking to initiate platform-based tech adoptions that meet customers right where they are–giving them a competitive advantage moving forward. The Capgemini and Zelros alliance makes this an easy, accessible goal for leaders everywhere. Two trusted advisors and strategic partners joined up with proven solutions to help enterprise insurance leaders create wins on their digital transformation journey. We look forward to reimagining the world of insurance together.
To see a demo of how this enterprise transformation can work for you, click here.