New Zelros Brand Ambassador Has You Covered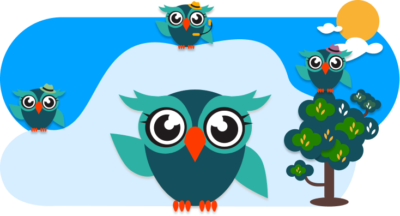 There is a fresh, new face on the Zelros scene. As Zelros' marketing chief, I am extremely proud to introduce Zèle, our new mascot and brand ambassador. She brings with her an almost 360-degree (270 degrees to be exact) dose of wisdom to the insurance industry right when and where it's needed most. 
Our goal in introducing Zèle is to help us better define the warm, authentic connection we have to the customers we love, the partners we respect, and the Zelrosians we value. Zèle draws from our strong reputation and deeply rooted presence in France. And because her family is 200-species big and lives on every continent, Zèle is a confident ambassador for our growth across international markets. She is at home everywhere!    
Defining Zèle
She's not your average owl. Zèle is brave, smart, and protective—offering groundbreaking levels of policyholder insights to help your prospects and customers feel more safe, secure, protected, and happy. 
And Zèle is ever-curious. She is always learning. Our owl gets wiser every day by absorbing data and watching behavior and actions so she can advocate for smarter, more informed product recommendations to customers looking for insurance.
Zèle also cares deeply about cultural and societal responsibilities. She exemplifies responsibility beyond just selling software in that her home base, Zelros, is focused on creating a more equitable world that is free from bias through algorithms that support Responsible AI programs. 
Zèle represents our commitment to making the insurance industry more transparent and responsible by adhering to an ethical AI approach across all our solutions. 
What is Zèle's brand purpose for Zelros? 
Zèle is the face of our brand commitment–helping our insurers build loyal, lasting, and trusted bonds with their customers. We do this by leading the way, leading in our product category for insurance, and leading in making insurance more responsible and sustainable–all while delighting the experience for our enterprise customers, users, and every policy holder. 
Zèle is also the perfect reflection of Zelrosians. We are a diverse group of individuals: 14 nationalities and 11 languages spoken, and just like Zèle, we stand tall and proud. We are humble though, so you won't find us drawing attention to our wisdom and smarts. But we are ambitiously dedicated to helping insurers build sustained customer growth for life and for future generations to come.
Zèle will make appearances in our product recommendation engine. She will serve the insurance industry across distribution, marketing, and datalab teams. Zele will also appear on our website, at events, and across Zelros marketing materials. 
A promise and commitment
We are excited about Zèle. She absolutely captures who Zelros is and where we are headed. Zèle is poised and ready to help us grow our insurer, partner, and Zelrosian ranks–in tandem with a deep commitment to the core values that drive us. The outcome? Responsible product recommendations that benefit everyone!
Thank you to our customers and partners for the ongoing inspiration, and to the amazing Zelrosian team across products, R&D, HR, and marketing for bringing this idea to life!