45% CSR Agent Turnover Rate – What Is The Insurance Industry Missing?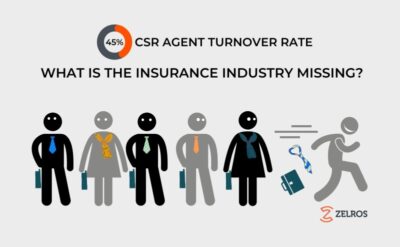 By: Damien Philippon, COO, Zelros
There are several hot topic trends that insurance industry sales leaders are watching closely right now, especially leaders in charge of their company's agents and customer service reps (CSRs) serving call centers.
These trends are technology and workforce related–and follow a successful path already forged by retail and other consumer-facing industries. Insurers and their sales leaders are embracing how third-party tech advancements can help them attract and build trusted relationships–the kind of customer experience engagement capable of growing and sustaining their profitability for years to come.
And yet, insurance sales leaders face a counterbalancing trend that could stall this forward growth–unless they pay close attention.
This dilemma is captured in these findings:
Trend 1. Insurers using leading-edge tech are growing the fastest. Growth appears to be strongest for insurers with leading-edge capabilities in AI, big data, application programming interfaces, and digitalization across the value chain. These insurance firms are leaning on data-driven insights to help facilitate customers' digital journeys.
Trend 2. The industry continues to suffer from rising CSR burnout and quit rates. Contact centers have some of the highest turnover rates in the country, ranging between 30-45%, more than double the average for all other occupations. Insurance companies are especially vulnerable to this because insurance products are complex and require skilled selling with access to data and information to respond to customer needs quickly and effectively.
Trend 3. Insurers are partnering in growing numbers with InsurTech to transform their CX approach.The goal is to not only grow market share, but to unburden and improve the work environment for their teams of CSRs and agents. Balancing automation with the need to maintain a human touch with customers is more important than ever.
Trend 4. The growth of InsurTech doubled from 2020 to 2021.1 InsurTech firms raised a record $15.4 billion in funding in 2021—nearly double 2020's levels, according to CB Insights. Leveraging AI-based platforms to boost the effectiveness and efficiency of critical functions has become a strategic imperative.
The costs of not getting it right
Call center agents don't just educate your prospects and customers; they interpret and enforce your policies and communicate your brand's value. They truly are the public face of your company. If the burnout and churn rates are high, the business losses can be real:
It can cost six to nine months of an agent or CSRs salary to recruit, onboard, and train them.
It can take up to six months for a CSR to provide optimal customer service.
Based on these numbers, it might cost a company replacing 30% of its 200-person CSR team $1,172,100 to $1,758,150 every year—on top of the $2,344,200 wage bill. Again, these numbers are likely higher for the insurance industry.
How to minimize the impact of your CSR and agent churn 

Digital and talent transformation is accelerating as insurers adapt for post-pandemic growth. This was the analysis Deloitte shared in their 2022 insurance industry outlook report. They state that companies have a responsibility—an imperative, actually—to create an environment that minimizes the risk of burnout. Here are a few actions insurers can take to initiate transformative change:
Modernize your call center and CSR experience
Invest in modern technology and pay attention to employee experience. The majority of your agents and CSRs are Gen Z and younger. This means their day-to-day experience has been transformed digitally: they will rarely read an entire document or use anything other than GPS for directions. They use their smartphones to book an Uber, sell items on Facebook Marketplace, watch Netflix, and buy from Amazon for next day delivery. For them, spending eight hours a day using sub-par technology for their job can quickly lead to frustration which means a less-inspired agent helping your customers. Zelros' recommendation engine helps here by seamlessly living in your CRM of choice, whether Salesforce, Microsoft, or any other. Their ability to quickly access real-time guidance and provide personalized product recommendations to your customers can transform the entire experience for them.
Offer a simpler and quicker onboarding experience
Insurers today are looking for ways to accelerate each advisor's learning curve and invest in their skill sets. Whether the CSR is new or an experienced advisor on a new training path, Zelros provides ways to customize the sales workflow depending on the advisor's experience level. This means you can tailor the learning path to the advisor's needs and personalize their individual experience. As such, CSRs are equipped to quickly and effectively respond to customers with the right workflow and the most optimal messaging and product recommendations. It's valuable, real-time information at their fingertips.
Reinforce an advisors ability to assess risk more expertly
Your agents and CSRs are aiming to sell highly personalized and specific policies to your prospects and existing customers. They are not selling a single type of product that appeals to everyone. That makes selling insurance a different thing entirely, and requires that your advisors have fast access to a knowledge base of information that can help them accurately assess a prospect's insurance profile, the risk exposure, and how much risk the insurer is willing to take. Zelros provides real-time recommendations to help CSRs ask the right questions and  recommend the right products while avoiding adding risk to your portfolio.
Conclusion 
Insurance companies can get ahead of the pack by focusing on honoring and equipping sales agents and CSRs for success. Gone are the days of call centers filled with low-paid, low-performing, and high turnover cost centers.
A Forbes 2022 article said it best:
"The financial and reputational cost of CSR burnout to an organization can be pretty high, but these costs are not inevitable. Using the right strategies can help lower burnout-related turnover … helping CSRs address common customer service challenges quickly and view their efforts as a viable and rewarding career."
To truly minimize the impact of churn and turnover, insurers are beginning, in greater numbers, to transform the experience of their CRSs and call center agents into cultures marked by innovation, collaboration, and smart technology adoption.
Learn more from global fortune insurance companies on how they leverage Zelros' real-time product recommendation engine
Curious to know more? Contact us or meet us at ITC Las Vegas at booth 3253!