Perception vs. Reality: Uncovering Consumer Behavior and Tech Strategies through Insurance Literacy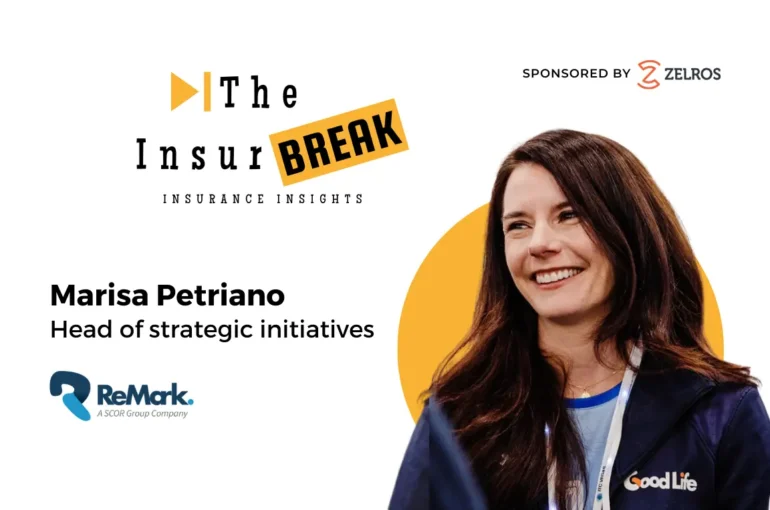 Listen to the Insurbreak podcast on:
Marissa Petriano, is the Head of Strategic Initiatives at Remark America. Bringing her diverse, consumer-focused experiences to insurance, Marisa has been working with insurers and carriers on digitalization, the adoption of new technologies and multichannel strategies.
Marisa explores the results of Remark's Global Consumer Study, the largest survey of insurance consumers aimed to understand consumer behaviour and preferences. The study involve over 10,000 consumers across 17 countries, with a focus on topics such as digital transformation, customer experience, and brand loyalty.
Listen to the latest episode of our podcast to learn more about:
The importance of combining human interactions with new digital, multi-channel approaches for consumers
How the Global Consumer Study can be leveraged to get ahead of demand, uncover assumptions and gain insights into consumer behaviour.
How to meet consumers' desire for education by incorporating human and digital interactions
Leveraging the right tools to simplify and customize knowledge for your customers
Working with diverse team members and perspectives to create a more diverse product set and better-equipped customer journey
The importance of remaining open-minded and overcoming biases while gaining experience throughout your career
You can download Remark's report here
You're tuning in to the InsurBreak podcast. It's the podcast about the latest and greatest trends in insurance. I'm your host, Ash, and I invite you to join us as we interview experts and executives of insurance covering innovative practices, technology advancements, and insight into the future of insurance. This podcast is sponsored by Zelros. Zelros is an AI software solution for insurance to hyper personalize the customer buying experience with insurance recommendations across all channels, boosting client acquisitions, cross-sell and up-sell. In this episode, we chat with Marisa Petriano, head of strategic initiatives at Remark Americas. In this conversation, we cover the Global Consumer Study, the largest survey of insurance consumers worldwide. Make sure to stick around until the end to hear about how the study is conducted, the surprising findings from the study, and the conclusions of the study so far in the context of how insurance companies should be educating their consumers. 
We are joined today by Marissa Petriano, Head of Strategic initiatives at Remark America. Remark is a global insurance consultancy helping insurers worldwide grow sustainably. Since 1984, they've reached over 1 billion people with data intelligence, marketing and technology solutions, and ran over 12,000 campaigns. Clients include over 500 insurers like MetLife, Legal & General, and more. Each year, they publish the largest survey of insurance consumers worldwide, called the Global Consumer Study, relied upon by industry leaders to keep them informed on current trends. Marisa, thank you for being with us today. It's so great to have you. 
I'm excited to be here as well. Thanks. 
So, to begin, can you give us some insight into your background, maybe how you got into insurance? 
I guess technically, I'm still a little bit of a newbie through insurance. I've only been working with Remark now for four years, and it's my first role within insurance. Still a tremendous amount for me to learn. My background is a mix of financial services within banking, as well as CPG, which I think has been a great mixture of experience to bring into insurance, especially since some of those industries are incredibly consumer focused. So bringing that knowledge and that perspective into insurance and working with my clients to really put that customer perspective into our campaign strategies. 
So what is your role now at Remark? 
So at Remark I am the Head of Strategic initiatives. Kind of a mouthful. Sounds like a really big title. But my role primarily is to work with insurers, carriers and our partners on digitalization as well as adopting new technologies. 
Could you give us an example of that, like, for somebody who's maybe not in the insurance space? 
So a lot of our marketing tends to be traditional, direct marketing, and there's an opportunity to expand into multichannel, omnichannel strategies. So a lot of my role is educating the teams and partners on how they can efficiently, effectively bring in those digital channels into their marketing. Because the reality is, within life insurance, human touch, human interactions are still an incredibly important piece of that process. But there is a need to start to expand into multiple channels. Consumers, they desire that multi-touch approach. It's proven that those strategies tend to perform better. But a lot of times it can be daunting to think about, well, how do I incorporate that into my existing programs? Or how do I create new programs that are leveraging these new technologies and digital channels? 
The big part of this conversation is going to be about the Global Consumer Study. Even I was super curious to hear about like, wow, I'm talking to somebody who's super involved with the Global Consumer Study and this is something that's relied upon by leaders in the industry. So it's so cool that we're talking about literally the world of insurance right here. Maybe can you tell us a little bit more about the study? Give us a little bit of background about the study when it started?
This is one of my favorite aspects of my job. I take pride in the fact that Remark is willing to take the time, the resources and the investment to do this study each year. This is our 9th year of publishing it. It typically is fielded in the spring and launched in the fall. And they do a fantastic job each year of incorporating new topics, but also having ongoing topics where we can see trends over time. Now, part of the reason why we do this is to support our carriers and partners across the industry, but also we leverage this knowledge to help us with our own strategies right. We're a marketing company. We're consumer facing. What do consumers want? It's really important for us to stay on top of those trends and then from a technology standpoint, being ahead of that demand, right. And we've used a lot of this knowledge in the study to determine our own tech strategy. We've been around for 40 years, so we're not new to the industry and like many of our partners in this industry, have gone through the growing pains of digitalization. And this study has helped us determine where and when we should invest in new technologies. And we've done a great job of using this knowledge to really expand upon our digital technology skill set. And we've made great traction in building out technologies across the entire customer journey. And a lot of this is because of the GCS. 
I'm just curious, I guess, what goes into that? How long does it take to do the whole study? 
It's nearly a year long process. The beginning of the year is very much focused on determining the themes, the topics, the questions, and these are sourced, not only from our team at Remark, but also our parent company Score, which is a reinsurer, as well as our carrier partners. What does everyone want to know in this next study? So we go through that process of developing all the questions, formalizing the questionnaire, and this study is across 22 markets. So in addition to formulating the survey, you're also then dealing with translating that into all these different languages, then working with our partner that does the panel and making sure that we're hitting the right number of respondents for each of those markets, then taking the time to field it. And then when you get that data back, we're not just going to spit that data out, we're going to take the time to digest it and put it into something that's thoughtful and insightful for our partners. And that takes time. When you look at data and you're pulling insights out, that's not an overnight process. So then we have that whole process, and then we have a fantastic internal creative team that turns those learnings and insights into a beautiful study visually with graphs and images, telling a story, having tidbits of information, so it's more digestible. And then lastly, which I think is the most exciting part, is publishing our Power BI dashboard. So this study is something that we allow anyone to access and play around with. The dashboard has all different filters you can apply, so you can do your own study within a study, which is great. So in the fall we launch it, then we do a campaign, we do a lot of speaking engagements, and then the whole process restarts again in the beginning of the new year. 
Aside from the obvious benefits of like, it's a global consumer study, you're getting all the eyeballs from the industry. What benefits have you seen from publishing this study? What benefits have you seen that are maybe not obvious? 
I think a lot of times you go into some of these studies with assumptions. Assuming you know the behavior, especially for a lot of the people in our industry who have been in this group for a long time. We kind of paint our own picture of why people are behaving the way they're behaving. And oftentimes you find that it's a little bit different than what you thought. And that's one of the things we're going to touch on today when it comes to literacy, because there's an interesting dynamic within that that's been surprising to me around perception and reality. So just in general, consumer studies, the ability to uncover these things that you assumed and you learn are actually the opposite of what you thought, which can be quite exciting too. 
What are your findings about literacy in general? And I guess, would you say that policyholders in general have a good education about their insurance policy or not really? 
So two years ago, we added a new piece of our study focused on insurance literacy and this part of the study not only covers insurance literacy. And this part of the literacy not only covers insurance as a literacy but it also touches just on financial literacy in general. That was intentional to have a benchmark. There's been a lot of studies focused on financial literacy, but there haven't been many that really do a deep dive into insurance literacy and then also getting further into the different pieces of insurance. You know, life and health versus property and casualty. So, as I mentioned, two years ago, we added this into our study, and the team did a fantastic job of incorporating this into it because they've taken it from two different perspectives. One being the policyholders or consumers perspective on their own literacy. How literate do they think they are? So what do they perceive versus their actual measured literacy. So as part of it, there is a ten question quiz where we assess their literacy. And in looking at this in general, I'd say globally people have decent literacy. I would say average out of a ten, globally, we're rating at a 6.25. I guess some would say that's a failing score. But out of ten questions, getting about 60% of them correct. But what's interesting is that, that score is a little bit different than their perception, and this varies by demographic group. So when you look at the study from a market perspective, as I mentioned, there are 22 markets that we conduct the study in, and we separate them into established versus growth markets. And in those markets, I don't think it's a big surprise that a lot of the growth markets are lagging a bit behind in terms of their literacy in terms of insurance. But interestingly, they actually have a lot of confidence in their literacy despite that gap. So they're scoring lower, but they're saying, yeah, I know life insurance, I'm confident in my knowledge. Whereas markets that have higher assessed scores actually are rating their perceived knowledge as lower. 
And this is not scientific, but my perception on that is it's this philosophy of you don't know what you don't know. I think as you start to engage more with life insurance products, you may begin to realize how some of them can be quite complex. Whereas if you're someone that maybe is not purchasing or has never purchased a life insurance product, you may not realize the complexities there. And interestingly, we're also seeing a similar trend when it comes to generations and demographics, from that perspective. Younger people are a bit more cocky about their perceived knowledge. They're saying, yes, I know these products, whereas older generations that have much higher measured knowledge are scoring lower in terms of their confidence level in insurance. That's one of the most surprising aspects of this entire study, of this perceived knowledge versus that assessed knowledge. And oftentimes that also correlates with your experience within these products. Older generations are a bit more experienced, whereas younger people aren't. Now, you say, all right, we have this. It's great. You know there's a gap there. Well, how do we take action? Right? And I think another important piece of this is the desire for education. And positively across the board, even if they are really overly confident in their knowledge, there is a desire out there for education which is great for our industry. 
Is there a way to quantify that? So for example, the average score is like 6.25. What's the average perceived or on average like for example, people perceive to be 30% more than they are, you know what I mean? 
So globally, as I mentioned, the average literacy score is 6.25. Now the part where with perceived knowledge is measured a little bit different. We ask them to rate their knowledge very good, good versus some or no knowledge. And globally we're seeing within life and health, 56.3% are stating that they have very good to good knowledge so it's a little over 50%. Whereas looking at different generational groups, this is where you start to see some of these interesting differences. Gen Z and Millennials stating that 64% of them are confident they have very good, good knowledge whereas you look at Boomers and the silent generation much more experienced in this space, their confidence level is 44.6%. So big gap between the generations there. 
Very interesting. Now, do you think people are actually interested to know more about their insurance policies? 
Yes, one of the best takeaways from this aspect of the study is the desire for education. And in general, nearly 70% of those surveyed said they felt like they could use some additional education. And you see once again there's generational market differences. Younger generations are even more interested. Nearly 80% of them are desiring more education and that's even more so in growth markets, just in growth markets in general, 82% of them say hey, I want to learn, I want to learn more. And we've done a good job of also digging a little bit further into, okay, so you say you want education. Well how do you want to be educated? And the results of this piece I find interesting as well because I think it mirrors a lot of what's happening in life insurance in general and we're seeing a desire for both human interaction and digital interaction. So the leading channel for learning is taking an online course and that's about 27% of the people who say I want to learn online, deliver that course, whereas about 24% of them are wanting a one to one call with someone. So those two worlds still exist and are still incredibly important for policyholders and consumers in general. And what's interesting as well is looking at younger generations, you assume younger generations always want just digital, right? And even within those populations they are desiring that one to one human interaction as well. So that trend is consistent across the various age groups. 
You would agree that then you would advise insurance companies to not only have a digital presence like, maybe they have videos teaching people and educating people, or podcasts, but also have that one to one as well? So insurance companies should be teaching in all different forms?
Agreed. Yes. Insurance carriers should consider both digital tools as well as equipping their team to have these discussions. And quite honestly, from a business perspective, those conversations are the opportunity to sell and enhance that relationship with a consumer. So that demand is there, that desire to learn and grow is there. We just need to prepare the team to be able to support that, and giving them the tools as well. 
If you can concisely put it, obviously you work directly with policyholders. How are you helping them implement education strategies? What would be like a quick four or five step, this is how you should be educating your customers? 
Yeah. In terms of implementing an education strategy, I don't think it needs to be terribly overly complex, right. I think first and foremost, transparency and clarity in just our normal customer journey, that's step one. I think there's a lot of things in our industry that can become difficult to follow. And I think just simply just being very clear in how we communicate, explaining the process to them, walking through all that, that's step one in education. And there are benefits across the board to just doing that, adding transparency and knowledge within that. And then the second phase is once you perfected that piece and you want to start to dig into education, taking the time to invest in tools is incredibly important. People learn in different ways. So, as we mentioned, the one to one conversation is making sure your policyholder facing team is equipped and ready to have those discussions and can simplify these discussions, I think simplicity is very important. And then also providing a series of tools once again that can help simplify things and bring insurance products to reality, right. How does this apply to my life? And that's something that Remark. We've also been exploring a lot of insurance gap calculators, personalized video even, because a lot of times too. And I think this is why that one to one discussion is important for people. It's like, you can educate me, but I don't think that really relates to me. That's not what I want.  Whereas if you have some of these tools that can customize the knowledge and the experience unique to that person, I think it's even more beneficial. But that's definitely further down. If you're working on entering into education, I think start with simplicity and then work your way into these tools to help them.  
Make sense. Everybody wants a personalized, tailored experience that makes sense. 
Even in education, right? 
Yeah, exactly. We always ask each speaker about diversity, equity, inclusion, maybe what are your thoughts on the space? And if you have a personal story to share about DEI that would be great. 
So when it comes to diversity, equity, inclusion, I'd say, remark, we're a global company, we're in a lot of markets. So naturally, because of that, we're very diverse. And our leadership team has done a fantastic job of making sure that, that continues to be the case. So my day to day world, I'm working with a very diverse global team. The reason why it's important naturally, of course, to be more inclusive, but also from business perspective is, when you're trying to serve a diverse consumer base, it's important to have teammates that understand diversity and come from different backgrounds. Otherwise you're creating products. It's natural to have this bias from your own world, in your own perspective. And having a more diverse team, I believe, better positions you to create a more diverse product set, a better equipped customer journey, because you're getting the perspectives from a variety of backgrounds versus just one generic background that doesn't fit the world. Right. 
If you could go back 20 years, what advice would you give your younger self? 
What advice would I give myself? So that was the beginning of my career. It's interesting. Last year I had the opportunity to go to South by Southwest, and I remember looking at all the different speakers I could attend. And you look at the topics and sometimes you just have this natural feeling of like, I don't really need to attend that topic because I already am knowledgeable in that space. And I remember going to one of the speakers and it was actually about learning and explaining how the bias of I already know everything really can get in the way of you learning. Right. Because you kind of close yourself off. So if I go back 20 years, obviously at the very beginning of my career, I didn't really know anything, and I kind of knew that I didn't know anything. But as you gain more and more experience, you do develop this perception of like, oh, I've already learned this. And the advice I give is just always to remain open minded, never assume, because there could be things that you truly don't know. And if you're not open to it, you're missing opportunities to learn. 
I love how you close that off. And it's just like, I feel like this is the theme of the podcast. It's just like you don't know what you don't know. 
Yeah! You don't know what you don't know. 
This podcast is sponsored by Zelros. Zelros is an AI software solution for insurance to hyper personalize the customer buying experience with insurance recommendations across all channels, boosting client acquisitions, cross sell and upsell. Thank you for tuning in to the Insurebreak podcast. Join us next month as we interview another insurance executive to gain insight on innovative practices, technology advancements, and what the future of the industry looks like. See you next month.