The Future Of Customer Insights Will Power Next Best Experiences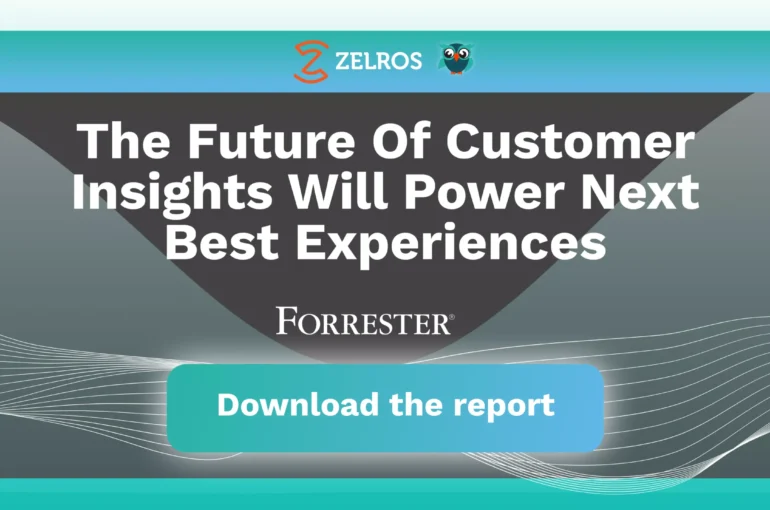 Only recently have insurers adopted AI-based recommendation engines to up their customer personalization game. Now, adding the exponential value gains of generative AI into the mix has the potential to amplify the power of recommendation engines, at scale, and take personalization to a whole new level—across every single customer touch point—without requiring human interaction. It is fast becoming an essential tool for any company wanting to true-up their claim to be customer obsessed.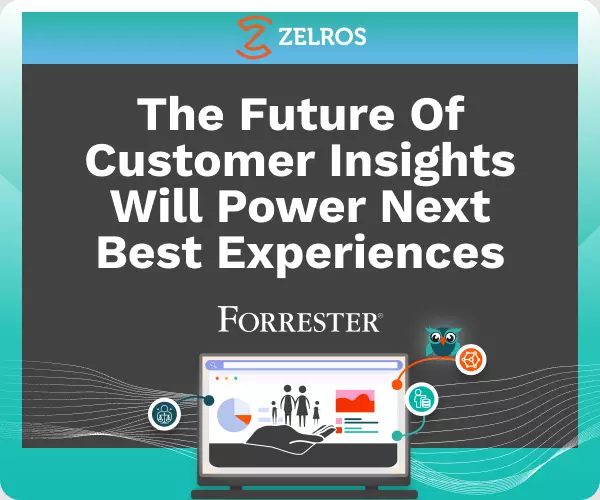 In a recent March 2023 Forrester research report titled,The Future Of Customer Insights Will Power Next Best Experiences: Come Together (Right Now) To Drive The Right Insights To The Right Experiences, Forrester states that even companies striving to be customer-obsessed are "[falling] short of creating superior customer experiences, even with sophisticated customer analytics in place, because of marketing myopia and internal misalignment."
Download the full report here
Zelros Integrates Generative AI To Help Keep Insurers Customer Obsessed
At Zelros, we believe that providing our insurance industry clients the analytical insight advantages of generative AI is what will help them win, and keep, happy customers.
Here's how the technology works.
It suggests preferred elements for customer journey campaigns. Based on an insurer's product catalog, Zelros will now suggest preferred elements for use in customer journeys. This means insurers spend less time on manual tasks and more time on strategic decision-making. In our latest product release, insurers can create new, customizable landing pages capable of delivering highly personalized recommendations to target audiences. It's a consumer-forward, consumer-obsessed approach and it engages your targets via SMS, email, or banner channels. Further, it's measurable and leverageable.
It generates personalized outbound campaigns. We know that email campaigns suffer from very low click rates, typically because the email content is not engaging nor customized to the recipient. Now, insurers can drop their first party or lead data on a secured space, then enrich and assess the data in the marketplace, and leverage it all into an effective outbound campaign that drives consumers to tailored landing pages designed just for them.
It harvests more and more data. A component of generative AI uses foundation models (FMs), models trained on large volumes of data that can generalize new tasks without any task-specific finetuning–and do it at scale. Zelros uses this as an advantage in analyzing, cleaning, and extracting meaningful insights from complex unstructured data sources. And we expect to see a virtuous loop where FMs help generate data that will feed other FMs to generate insights.
It deploys a Zero-party data strategy for more personalized consumer care. Marketing and sales advisors can gain a deeper understanding of their consumers with Zelros' simple personalized questions and messaging to gather actionable insights. These are responses the consumer intentionally and directly provides the insurer, making it easy for marketing and sales agents to collect the responses non-invasively and transparently. The insurance industry can lead the game in the Zero-party data as consumers are already sharing a lot of personal data for more personalized offers and better experiences.
At Zelros, our aim is to help insurers become consumer-obsessed without sacrificing operational efficiencies. The trend is happening: competitive insurers are quickly adopting platforms enriched with generative AI capabilities to give them a deeper understanding of their consumers and prospects. Based on directional trends, these companies are the future leaders in the industry.