How to grow property and casualty insurance premiums and manage risk at the point of sale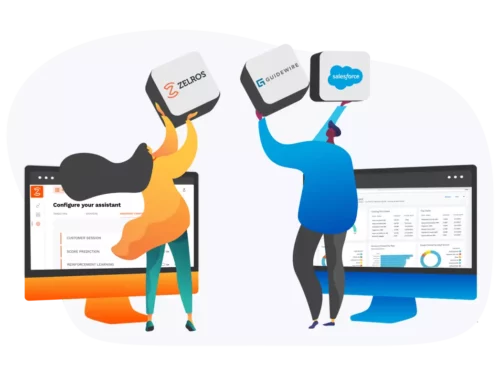 By Christophe Bourguignat, CEO, Zelros
The past 18 months have been fascinating to observe, with several property and casualty (P&C) insurtech companies going public, including Lemonade and Root in 2020 and Metromile and HIPPO in 2021. The public listing allows transparent access to detailed financial metrics including Gross Written Premium (GWP) and loss ratio. Loss ratio is the insurance claims paid, plus adjustment expenses, divided by total earned premiums. 
These young insurtech companies have impressive double, even triple digit, GWP growth, an order of magnitude higher than what traditional and established insurance carriers can achieve. For example, in Q4 2021, Lemonade's revenue increased 100% year-over-year, while Liberty Mutual's net written premium (NWP) was only up 9.2%, compared to the same quarter in 2020. 
A question is whether these new insurtechs can sustain their growth.
Evaluating risk and ensuring sustainability
More than ever, when new client acquisition costs remain high compared to the expected lifetime value of the customer, and their loss ratios are under pressure, it is advisable for leaders at insurance carriers to pause and ensure the models their agents are using are sustainable. Can carriers selling P&C products increase insurance sales, while carefully choosing risk, to avoid degrading loss ratio? 
In short, is the quality of the risk profile they accept, related to the premium price they grant, right where they want it to be? Here's an interesting metric from Q3 2021: the average loss ratio on car insurance for U.S. companies was 72.1%. While at insurtech Root, it was 91.3% in the third quarter, meaning that for every $100 Root charged in premiums, it paid $91 in claims to policyholders, compared with $72 in the industry as a whole.
Selling insurance is different from selling internet services
Unlike selling a pair of shoes, an internet subscription, or a lawn mower, advising insurance products to a consumer is heavily regulated and must be evaluated for risk (underwriting) before an offer can be made. It is at the underwriting stage then that carriers want to make sure the underwriting model they use is capturing the caliber and specificity of data needed–to ensure they provide the ultimate customer experience while not leaving any money on the table. This gets back to company sustainability. Is their current underwriting model doing its job? 
Why surfacing critical data makes for best-in-class selling
Insurance companies never have to leave money on the table when the platform solution they use equips them to offer hyper-personalized customer experiences and services through an agent or digital channels. This is where Zelros adds value and helps carriers protect their future sustainability.  
For example, last year Zelros unveiled the Insurance Data Catalog, a new feature that allows carriers to integrate third party data to go even further in their personalized recommendations. Depending on the policyholder's context, such as weather (a recent, local hail event potentially damaged cars), specific statistics (the local burglary rate) or lifestyle (rural or urban), it is now possible for the customer to understand the details and specifics around the insurance service they are purchasing. This is best for them and powerful for the carriers. Today, Zelros generates millions of recommendations monthly, serving a base of 250 million policyholders, all of which serves to increase loyalty, upsell opportunities, and customer satisfaction. 
Case study steps: risk selection at the point of sale
In addition to contextualized selling points for advising or retaining policyholders, the Zelros low-code platform can be configured to provide real time guidance to agents on risk selection and underwriting. 
Below we show you a real-world underwriting process using a data source (HazardHub) from our partner Guidewire. HazardHub is the leading property-level hazard risk database, for comprehensive, national coverage for risks that destroy and damage property. 
Step 1: Activate an API on the platform
Third party data sources like Guidewire HazardHub API can be imported in the Zelros Insurance Data Catalog, where insurance relevant datasets are stored, to then be used for business offerings like upsell, cross-sell, risk selection, prevention, or retention. 
The Zelros Insurance Data Catalog contains a collection of insurance specific data sources, like Guidewire HazardHub
The Guidewire HazardHub data source can be activated in the Zelros Insurance Data Catalog by simply adding the associated subscription key.
Activating Guidewire HazardHub in the Zelros Insurance Data Catalog
Step 2: Get the information you need
The Guidewire HazardHub API includes hundreds of risk insights such as drug alcohol death risk, fire hydrant distance, burglary rates, and more. Let's select two of them for this case study: FEMA flooding risk and hail risk. 
Configuring the data pipelines to select the required fields
When querying the Zelros API, customer profiles are now enriched with Guidewire HazardHub risk assessment data for further downstream use.  
Customer profiles are now enriched with Guidewire HazardHub risk data
Now that the data pipeline is configured and up and running, let's look at how to use it.
Step 3: Trigger specific alerts for complex risks
If the flood risk of the customer you are interacting with is high, a warning can now be configured.
Configuring a new rule in the Zelros low-code platform to trigger personalized warnings
The Zelros API can be consumed to display a warning in the agent sales management system, such as Salesforce, Microsoft Dynamics, or any other CRM (Customer Relationship Management) / AMS (Agency Management System). 
Agents and advisors can now make better decisions by being proactively informed of risk information
In a word, now the sales organization is proactively empowered with contextualized and real time risk information, for better decision-making.  
Step 4. Educate and retain your customers
Risk information can also be used for upsell, retention, and prevention by providing an extra level of advice. This can be done by configuring specific advice in the platform:
Creating specific selling points and advice in the Zelros low-code platform, based on Guidewire HazardHub risk information
You can now help your agents and advisors recommend the right, personalized advice and the best service, based on real-world, specific risks. 
Risk information can be used to offer a better service and better advice to policyholders
Note that the examples above were focused on physical distribution channels, but this capability applies equally to embedded insurance in digital channels.
An integration example into an embedded insurance distribution channel
Conclusion 
We looked at just a few examples of the unbounded capabilities of the Zelros distribution platform when connected to high value, mission critical data such as the Guidewire HazardHub, to grow P&C sales while selecting risk at the point of sale.
Insurers today leverage a host of data sources and analytics to truly personalize advice to their customers, while improving underwriting and risk selection. This could be the use of  traditional data points such as age, type of house, presence of children; or more sophisticated data points like distance to the closest hospital, recent weather storms, hyper-localized burglary or accident statistics, school holidays, urban/rural lifestyle, and more.    
Are you interested in adopting a proactive personalization of your insurance services to gain and retain a competitive edge? 
Reach out to Zelros today to get hands-on exposure to a next-generation insurance recommendation platform, and help secure your future growth. 
Are you visiting ITC Las Vegas?Meet us at booth 3253!